POST APPENDIX BLUES
To set up my latest "WTF is going on in my life" moment, I am going to need to set the stage a bit.
I am working at a hostel in Tbilisi. The owner and his wife are off touring western Europe. The owners mother comes in to do things at the hostel while he is away. There is also a South African girl (the sturdy, competent type named Brigid) who has been working here for months.
As mentioned previously, I had told Brigid I was heading to the hospital. She was not worried at all. "You're a big boy" was all she said.
The owners mother went...the other route. She freaked out.
Freaked the fuck out.
I thought she had just called a bunch of hospitals.
No.
She called the Georgian police.
They looked for me.
On Facebook.
Go take a look at the picture of me on a camel.
Yeah. The one on my profile.
According to other Georgians, that picture made an appearance on Georgian TV.
So.
To all of those people who make "FML" posts, I think I can say I have one upped you.
Sure, it would suck more if my computer blew up - but having the Georgian police airing a picture of you riding a camel and saying "Have you seen this man or his camel?" on TV is at least a tad more interesting.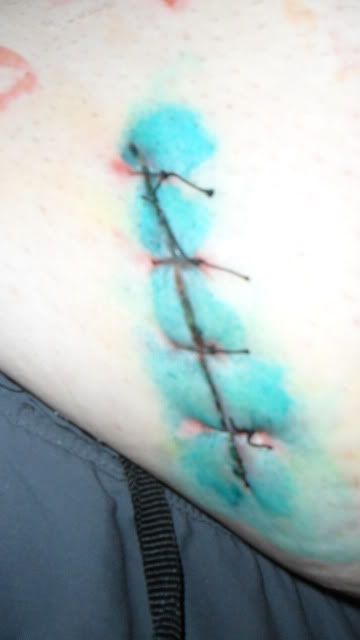 TWO DAYS LATER
I was just sitting around. I'm spending even more time than normal doing that because I don't want to aggravate my wound.
I had brushed my hand over my shirt where the wound is because it was feeling a bit moist.
Behold, my scar had popped back open
.
After a brief photo op with a reluctant and grossed out cameraman (Brigid) it was back to the hospital with me.
A local, two stitches and crappily put on band-aid and I'm back.