INDONESIA "FULL THROTTLE"
At nine in the morning, Christopher invited me for a tour to go see a couple temples. I readily agreed. He inquired if I'd like to see the itenary. "Absolutely not!" I responded. His personality type is melancholic and (for those of you who don't know what I'm talking about) this means he had studied the details and knew where we would be going and so on. Since I am choleric, I didn't care. We were going and I had to be ready to go at nine. That is enough information for me.
We went to see two temples. This took literally eleven plus hours of riding and strolling. Needless to say, my body was wracked with pain from 'riding bitch' that long. Ironically, I thought that the scenery we didn't pay for was better than the temples and rice fields they charged us to see. I don't recommend either temple.
At the first temple, they did have a bunch of animal statues just put up for people to take their pictures with. Since they were unconnected with any sort of religious things, I got my amusement quota by 'dry humping' them and having my picture taken doing so. It was juvinile but I feel that it did justify the cost of these things.
The section of videos and such will more adequately show the huge journey we took will be uploaded once I can find decent internet. The reason it is called 'Full Throttle' is that for some hills, Christopher had to use his feet to urge along the bike because it had insufficient power. It reminded me of an old car once owned by a certain Derek Jones.
Considering we spent under $10 for the bike rental and various temples, this was a cheap day of entertainment. Made still cheaper by dry humping.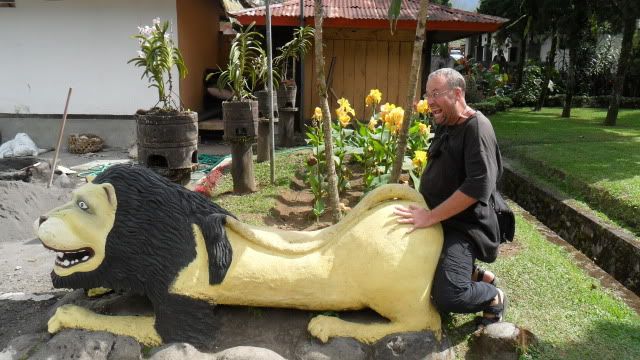 And with savage glee, I did rape the statuary...
MOSQUITOS
As those who have traveled with me before, my flesh isn't considered especially tasty by female mosquots. Indeed, females of my own species do not tend to find it so. Since I had come to Indonesia without the benefit of any shots nor anti-malarial tablets, I decided to purchase something which either drives off or kills the few females still troubling me. I refer to the insects, not the human females as none of these seem to be troubling me in any way. Nor biting me during the night. Which would be odd. Christopher told me of an interesting, electrically powered device. He had good results from it. I purchased the "Generasi Baru Hit-Mat". It is a very small heater powered with 220 volts. You slide a small card into it and plug it in. The room slowly fills with a not unpleasant aroma. After half an hour or so, no mosquitos are present. I haven't tried this in extremely adverse conditions but thus far I have only good things to say about it. The new pads are sold seperately, last for eight hours and are cheap. For a months supply it was a couple of dollars. The weight of the unit is neglegable. It is also far more pleasant and effective than the 'mosquito coils' which are burned. The smoke keeps away some of the female insects and most of the human females.
TRANSPORT IN INDONESIA
Indonesia is odd in that it seems to be one of the few countries that using a travel agent to book travels is a good idea. Because the bemo (small, shared van) drivers are such greedy and repellant people, any time you need to use a bemo it is a bad experience. They will try to charge you many times the going rate. They even try to rip off their own countrymen.
It costs a small amount more to use a travel agent but having significantly less stress and waiting for the vehicle to get more passengers seems well worth it.
Christopher had booked transport which was suppose to pick him up at Dani's. I know they use small buses for this so I was curious as to how they would 'pick him up' since the bus would not fit down the alley. The driver had to get out of the vehicle and walk down the alley to get here. Sadly, we had already left in search of the vehicle by the time the driver made it here. They found us enroute to the office and took Christopher on board. Neither the driver nor other passangers were happy - but Christopher is on his way at last.
UBUD
The main street of Ubud is a nice enough walk, discounting the constant irritant of the cab drivers who call out to you ever few minutes. Much of this town has sidewalks though they are treacherous. Large stones cover the sewer beneath. Several of these stones have fallen or will shift underfoot. Also, sometimes moped drivers just feel like driving on the sidewalk. Since there are no real traffic rules about such things, all you can do is get out of the way. Yes, they will beep at you to move if you are in their way - on the sidewalk.
For normal tourists, Ubud - the 'cultural capital' seems to be more miss than hit. While I personally enjoy the random architecture and little temples dotted all over, time pressed tourists want to see something more grand during their brief stay. Other than the Monkey Temple (I enjoyed it very much) there doesn't seem to be much in this town.
DANI'S HOMESTAY
Staying at Danis' is a real treat. He treats you as an honored guest ("Would you like some coffee?" It is at no charge!) and I am feeling very spoiled here. Pretty much the only thing I am concerned with staying here is my slowly dwindling stock of downloaded entertainment. Since he has no wifi I can't replace it. Getting an 'internet stick' requires an initial outlay of about $30 and I'll go through their '2 gig' fast. Real fast. The only alternative I have found for wifi in this area is to carry my laptop 1-2 KM to an overpriced restaurants in the center of Ubud which offers free wifi.
LOOKING FOR LODGING WITH WIFI IN UBUD
Keeping in mind that Dani's seems to be a step above anything else near it's price range, here are my results for Ubud.
The main street of Ubud is an east-west street. The places I checked are all near this street. I didn't go onto terciary streets though there are places there as well. All prices in IRD. These prices are prior to negotiating - but keep in mind that Indonesia is mostly a 'take it or leave it' culture as opposed to negotiating. If I put wifi, it means wifi is in the rooms. If it is only in the lobby, I specify that as it is (for me) useless. All of the rooms I checked had hot water unless otherwise specified. Some places even have an ornamental rice field but it is not very cool looking so I don't see the point.
I also excluded any place that didn't have an obvious sign. If it isn't easy to find, they obviously don't need the business.
Mawar Homestay and Gallery, wifi, 250,000
Pura Ovanti, wifi, 350,000-400,000
Puri Bayu, locked, possibly abandoned
Pondok Krishna Guest House, wifi, 350,000-400,000
Pondok Indar, wifi, 200,000
Permana Cottages, wifi, 300,000
Iea Inn, wifi in lobby only, 250,000-300,000
Honeymoon Guest House, cooking school and restaurant, wifi, 450,000-700,000.
Sama's Cottages, wifi, 380,000
The following are on Jalen Kajeng street, north of the E-W main street:
Pradha Guest House, small swimming pool, wifi, 400,000
Rojas Homestay, some rooms have hot water, 125,000 w/o, 150,000 with
Agung Homestay, too yuck to ask price
Shanti, no wifi
Arjana Accomodation, no wifi but should be installed in August 2012
Artja Inn, no wifi, warning - they raise chickens
Nyoman Homestay, no wifi, full
Villa Ladybamboo (all one word), warning, construction
Lecuk Inn, no wifi, warning - noisy dogs
Gusti's Home Stay, wifi, 100,000, full
Eka's Homestay, wifi, 120,000, warning - noisy dogs
I didn't look at all of the rooms but it's looking like I'll just have to suck it up and find free wifi where I can and use internet cafes otherwise. I'm enjoying staying at Dani's too much right now. Maybe the next place I get to will have some wifi.
KIM AND BARRY
While eating at the Mexican food place I met up with two expats from California named Kim and Barry. This year they are retiring to Bali. They're a very nice couple and have invited me to their newly completed home. You can have quite a bit of home built here for a couple hundred thousand dollars. If I get to visit them on a day trip, I'll see if I can get permission to make a video of their home and such. What impressed me most is they were talking about following the local customs of the village they moved into. "We are not Hindu but have built a Hindu home." This requires little changes. If you have a body of water (like a swimming pool) at your home, you need to build a shrine. They even had the house blessing which involves having all of the villagers over for dinner. They even go so far as to put out the small offerings at the appropriate times, just like their neighbors.
This extra effort has put them into good stead with their village. They are quickly on the road to becoming 'locals'. One villager paid them a huge compliment when he said "You look like an American, drink like an Australian and act Balanese."
This sort of activity is in stark contrast to many people who come here and build a large walled compound. Rather than going out for such things as shopping, they send their local minions. It makes little difference which country they are living in because they never really become part of it.
They are fitting into the country more than I choose to - reference picture above...
MEMORABLE QUOTES
Unknown: "Philippinos are a warm, gentle and caring people. This is a good thing since so many of them carry concealed weapons."
Darwin Awards: "You do not need a parachute to skydive. You only need a parachute to skydive twice."
UNMEMORABLE QUOTES
A poem I came up with while pondering the 'Asian business model'.
Monkey see
Monkey do
Monkeys like to play with poo
I'm not a monkey, how 'bout you?
If you play with poo,
That will do,
It'll make a monkey out of you.
Clearly, poetry isn't my strong suit.
T.E. LAWRENCES' SEVEN PILLARS OF WISDOM (BOOK)
I arranged things at Dani's Homestay to get nice and comfortable and sit down on my large couch with cushions to read. As soon as I started the book up on my Kindle, loud drums started beating. Eventually, the drummers gave up and I was able to read.
After getting through the first six chapters of that horrible book, I can say that if I never read another word my life shall be better. The whole thing seems to be a drawn out apology for doing what was done. Then, he started in on tedious lectures of the land, people and such. Dull. Just watch the movie 'Lawrence of Arabia'. Much better. I was very disappointed in his writing. True that it was written in the 1920's and the writing style was different at that time. It is true also that he was a soldier, not a professional author but for god's sake... I think my crappy poetry (above) is better. It has the strength of brevity behind it.
RESTAURANT REVIEW
Flying Mojo's Burritos: I didn't love it as much as the people I met there but it was decent Mexican food by people who have never eaten it in the USA. It is one of those upscale restaurants that tack on the 10% tax. Two tacos will cost 41,000 and their drinks cost double the going rate from stores.
COSTS
Monkey Temple, Ubud, 20,000 IDR - totally worth it - see long series of videos on it when I can get them uploaded.
Internet, per hour at local place, 4000 IRD
Per page printing, 1000 IRD
Small bottle of soda at internet place, 4000 IRD
Smoking at internet place, free
Motorbike rental for one day, 50,000 IRD
Motorbike rental for longer period, 35,000 IRD (negotiable)
Temple A: 30,000 IRD
Temple B: 15,000 IRD to get into the 'rice fields' area where the temple was and another 10,000 IRD to go into the temple itself.
Temple parking: 2000 IRD.
Shave, 10,000 IRD, haircut 10,000 IRD (negotiated down from 15,000 IRD)
Ubud to any of the three Gili Islands, 160,000 to 175,000 IRD, depending on where you go. For the fast boat, 300,000 IRD. The regular transport leaves at 7AM and you arrive by 4-5PM (9 or so hour trip). With the fast boat, you are there before noon (they say 11AM, I say before noon). (Yes, I'll take the slow boat for cost savings.) If you leave at 8:30 or 11 AM instead, you must stay one night in Seggigi.
Internet stick, good for 2gigs and a month. Starting cost is a total of 365,000 IRD (stick plus 2gig card) and each two gig card thereafter is 90,000 IRD. Too much for my evil uses.
Car with driver for a day, 4m to 5m IDR
Sim card for phone, 20,000 IDR
Surf board rental, 40,000-50,000 IDR